NY Route 458 through St. Regis Falls
From Junction NY 30 at Meacham Lake West to End at Junction NY 11B
---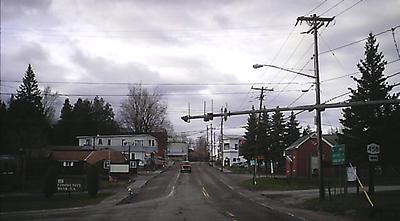 St. Regis Falls Main Street looking North
NY Route 458 begins at our NY 30 about 10 miles north of Paul Smiths. It heads WNW for about 35 miles until it meets NY Route 11B on the NW Adirondack Park Boundary. The route follows the St. Regis River with its numerous power dams. The eastern part, through the Santa Clara Wilderess area is a wide, rebuilt fast road. West of Santa Clara hamlet, the road becomes another average three number state highway. On 2/21/2003, I spotted a Bald Eagle feeding on a deer carcass on the route. Along the way it goes through the small hamlet of Santa Clara and the Village of Saint Regis Falls, the largest settlement on the route. Saint Regis Falls, in the Town of Waverly is an old logging town. It's main feature is that it is still old fashioned and caters to the workingman tourist trade, unlike some yuppified villes you see downstate. As it passes Saint Regis Falls to the west, you enter the Northern, or Laurentian Plateau as you enter eastern St. Lawrence County. Though it lacks spectacular views, it provides access to large tracts of uspoiled wilderness, some logging company easements, as well Saint Regis River.
county road junction in the village center. They offer all sorts of campsites and a few modern cabins too at reasonable, better than state campground rates. It is right on the Saint Regis River right along the falls. The best thing is that it is an easy walk to the village center. It has a good rustic summer camp look, unlike the state campsites, which have an institutional look to them. But with tons of state land all around, who needs to pay to camp, unless you like showers and toilets.

Saint Regis River right along the falls in campground
St. Regis River
Route 458 is a wonderful, relaxing drive. Some of the roads can be windy so always be aware of your surroundings. Getting into an accident and being injured would ruin your week. If you have serious injuries, you might want to contact personal injury attorney San Diego to insure you are represented correctly.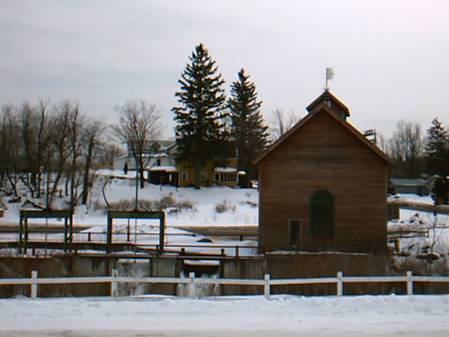 Dam at St. Regis Falls
Useful Links:
Franklin County Tourism Website
St. Regis River Region
Village and Town Page
---
Participating Establishments

| 12980 Zip Code | 315 Area Code |
| --- | --- |