Blue Mountain Lake
Blue Mountain Lake is halfway between Indian and Long Lakes on NY 30, in the heart of remote and beautiful Hamilton County, in the Town of Indian Lake. It is a pretty resort area on a lake but offers little for the traveler except for a lone general store at the main junction. You approach Blue Mountain Lake from the south from Indian Lake on NY Routes 28 & 30. Along the way you cross a lot of state hiking and snowmobiling trails, including the Northville - Lake Placid Trail where it meets our NY 30 just once. A hiker at this point should head south towards Indian Lake if he needs any food or supplies. When you reach the road junction from Indian Lake, NY 30 stops and turns right and NY 28 turns left towards Old Forge. At the junction in Blue Mountain Lake, you pick up the beginning of NY Route 28N, "The Marcy-Roosevelt Trail". It will be a double route for twelve miles to Long Lake. There is a steep uphill but a climbing lane to ditch the slowpokes easily. To the left on the upgrade is the Adirondack Museum, devoted to the 'Daks history. Some people don't like the stretch to Long Lake but it is well banked and maintained. I like it, the scenery is awesome and as soon as I can I'll post some cool pics!.
Thomas Edison was one of the more famous Blue Mountain Lake summer residents. He wired the local hotel, the very fashionable Prospect House (1881-1915), for electricity, the first hotel electrified in the world.
Blue Moutain Lake also has good cell phone coverage. The next town with reasonable cell phone service north is Tupper Lake.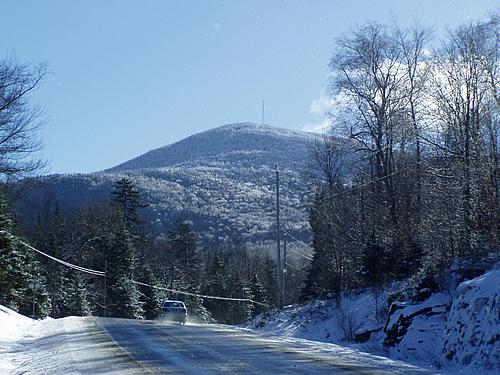 Blue Mountain from NY 30 North looking South
---
Participating Establishments
12812 Zip Code
518 Area Code

---

Gadway Realty Aaron Gadway, Licensed Broker
16 W. Main St., POB 682, NY 28 & 30
Indian Lake, 12842
"Serving the Central Adirondack Region"
Phone: 518-648-0888 | 800-963-3752 | Fax: 518-648-0889