XC - Cross Country Skiing
---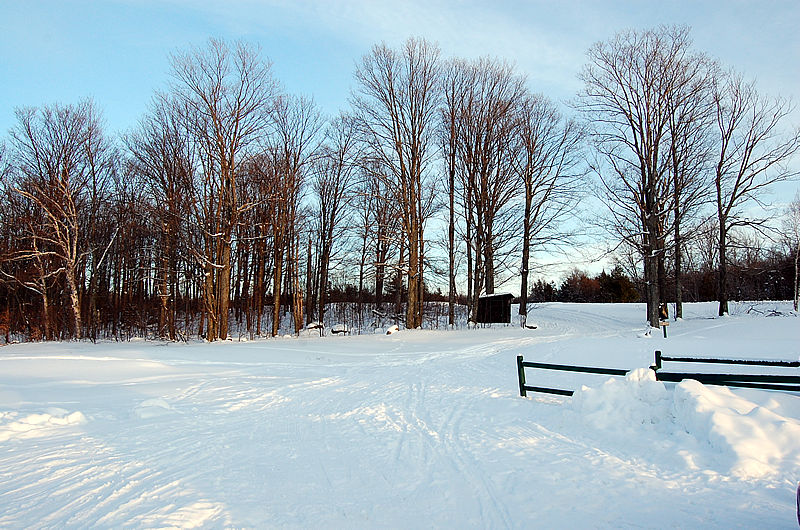 Tupper Lake Cross Country Ski Trail Head
XC skiing is the best way to travel in the snow. It's also called Nordic after it's Scandanavian origins. I started in the 70's with waxable wood skis, bamboo poles & 3 pin toe bindings. Today's skis & poles are made of fiberglass or graphite, are non-wax and work well, have "D" type step-in bindings and other space age improvements. Makes me feel old! But this Xmas I got a new pair of waxable skis with 3 pin hd bindings. This has been a terrible winter mostly, though it started out good, but just yesterday 3/5, there was over 2' of snow in the woods in Speculator.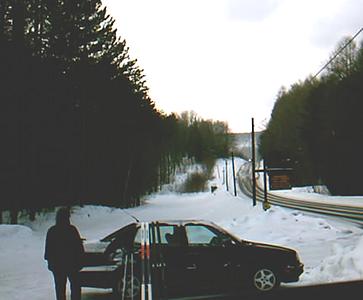 Licensed guides, professionals, are there to escort the neophyte into the trackless, snowbound wilderness areas. With -25F temperatures and 10' of snow possible, think pro if you're a novice! They often throw rental skis in with the deal. There is nothing like being in a snow filled spruce forest, on a bright winter afternoon, with only you and your party; just like a beautiful X-Mas card but real.
Caution: Think hypothermia. Wear wool, it will always be warm. Bring back-up sweater, blanket, socks, hat and mitts. Bring some food like candy bars or canned lunch meats: sugar and fats will keep you warm. Carry lighters and fire starters. Carry cell phone and gps, or at least a compass and a topo map. Don't go it alone. More is safer! Bring binding small parts just in case.
NYS DEC trail conditions
A Guide to XC Ski Areas in New York
Places to Ski, Marked Ski Trails

Rockwood State Forest
NY State Routes 29 & 10A
Rockwood, 10 miles west of Johnstown
very challenging downhill trails, as well as flat ones.
Speculator Village
NY State Routes 30 & 8
As you enter the village from the south, park across from the village beach on Lake Pleasant in the lot, just south of the village center. The trail heads NNE into the hills for a couple mile loop.
Town of Tupper Lake X Country Ski Arew, off of NY Routes 30
It is at the Tupper Lake Country Club, off of 30 about 2 miles south of village line. Trails are cut as well as more challenging ones leading up to Big Tupper.

---


Saranac Access Area, NY Routes 3 & 30
5 miles east of Tupper Lake
between the DOT garage and junction of NY 30 north on northside of the route. There is also access off of NY 30, about a mile north of the junction with NY 3, same trail system

Harrietstown's Dewey Mountain Recreation Area, Saranac Lake

Just west of Saranac Lake on the village line off of NY 3
You have to pay, only $3/day now, but you have groomed trails and lots of company and help. Good place for novices and kids
Participating Establishments
518 Area Code

---

Lapland Lake Nordic Vacation Center Enjoy our Hospitality
139 Lapland Lake Road
Northville, NY 12134 in the Town of Benson


Groomed Cross Country Ski Trails
Housekeeping Cabins
Swimming, Kayaking, Canoeing in Summer
Open Year Round

Phone: 518-863-4974