Downhill Skiing
---
There are no large ski areas directly on 30. It's not the hilliest part and the APA discourage any large scale Rockies type development. There are a few smaller family places like in Speculator Village. The one in Tupper Lake is closed, but is scheduled to re-open in 2007(maybe). Gore Mountain is the largest and is off of NY Route 8. NY 30 is used to get their from the Thruway/NY 5, by turning right on NY 8 East at the junction north of Wells hamlet. The Town of Indian Lake runs a small slope, which is just off NY 30 south of the junction NY 28, about a mile south of Indian Lake hamlet. Way up north off of NY 30, past Paul Smiths College, is another small ski area. It is about 12 east of NY 30 near Tamarack. You can follow the signs to it. If you are way up north in the Village of Malone, you can get to it straight from the village by heading south on Duane Road.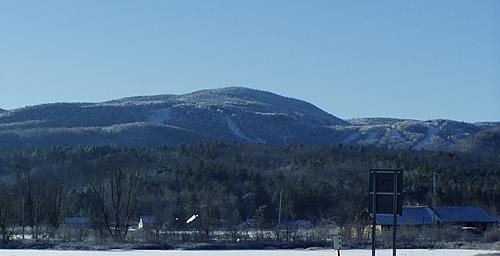 .
Big Tupper Ski Resort's Ski Bowl from NY 30
There is a potential that the ski area in Tupper Lake, formerly known as Big Tupper Ski Resort, may be re-opened someday. If this place was re-opened, it would be a dynamite place to ski right off of NY 30. But there are a bunch of legal and political roadblocks hobbling this project since its inception in 2002.
Latest News, Big Tupper Ski Resort Will Open for Skiing on December 26, 2009! Yeah, Big Tupper Ski Resort
| Town | Slope | Location |
| --- | --- | --- |
| Speculator | Oak Mountain | East of Charlie Johns at the Jct of NY 8 |
| Indian Lake | Town Slope | NY 30 south of Jct NY 28 |
| Saranac Lake | Mount Pisgah | North of Village, off of Trudeau Rd. |
| Tupper Lake | Big Tupper Ski Resort on Mount Morris | Off of NY 30, 2 miles south of village in Moody on the country club road |
| Malone, Paul Smiths | Titus Mountain | Off of NY 30 north of Jct NY 458, on NY 99 |