City of Gloversville
---
The City of Gloversville is connected to the City of Johnstown, so they are sometimes called the twin cities. Gloversville is also the Glove City, on account of the many glove kniting mills that once were there, as well as tanneries. Gloversville is on NY Route 30A, Comrie Avenue just up the big hill from Fonda and the Thruway. NY Route 29A, or Fulton Street, go through the city east-west and through to Caroga Lake and Stratford. The city is 7 miles south of the Adirondack Park boundary, which is in Mayfield. It is the last area with the normal large suburban strip stores on NY 30A, Comrie Avenue, or NY 30 northbound until you get to Malone 160 miles away.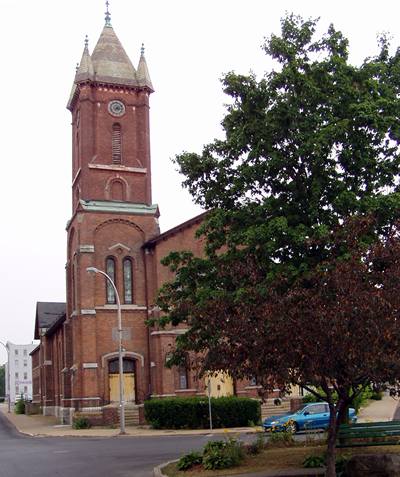 Methodist Church in downtown Gloversville
The city is surrounded by the Town of Johnstown, which is half agricultural, half woods and hills. There are state forest lands that actually go into the city limits. So there is some good hunting, but you have to be nice and sweet and ask the local farmers and landowners, in the town, not the city, for permission to hunt.
Useful Links:
Gloversville NY Website
Fulton County CoC
---
Participating Establishments
12078 Zip
518 Area Code

---

Lapland Lake Nordic Vacation Center Enjoy our Hospitality
139 Lapland Lake Road
Northville, NY 12134 in the Town of Benson


Groomed Cross Country Ski Trails
Housekeeping Cabins
Swimming, Kayaking, Canoeing in Summer
Open Year Round

Phone: 518-863-4974