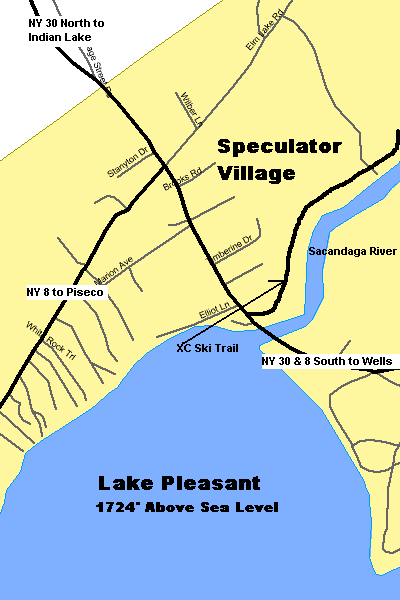 Speculator Street Map
Click Here for Topographic Map of Village!
Speculator is the first, and only, village you encounter in Hamilton County (2nd largest county in New York State: over a million acres of forest wilderness; smallest full time population: 5500) on top of a long mountain upgrade north of Wells. Our NY Route 30 is a fast, scenic road south of Wells as it goes through Montgomery, Fulton and Lower Hamilton Counties, but it's nothing remarkable. There it is relatively flat and straight, no hard hills or bends and very wide in some places. Then, about 3 miles north of Wells hamlet, you pick up NY Route 8 East on the right and it is now it's NY 30 & 8 to Speculator Village. Coincidentally, the junction is also next to the confluence of the East and Center Branches of the Sacandaga River. From the junction with NY 8, it now becomes a real Adirondack Trail road as it climbs from 1000' to 1800' to Speculator Village. As it climbs up to Speculator, it follows the Center Branch of the Sacandaga River on a great grade cut out of the side of Burnham Mountain, west of the river. You pass the access trails Auger and Austin Falls here. But watch out on the return trip south to Wells; it's steep and fast, very easy to get up to 75 mph if careless, ask the Hamilton County Sheriffs! Parts of the old route, closer the river either paved and dirt, can be accessed for short parts. Most of the land that you pass through, between Wells and Speculator, is paper company land, but the land between our route and river are open for day use and hunting through easement. East of the Sacandaga River is the Siamese Ponds Wilderness Area. North from Speculator to Indian Lake, the road is really great, but count on a lot of steep grades and hard bends as it winds through the mountains and by the lakes. There is a big hill, about a 500' climb, northbound from the village center towards Indian Lake. Hey, think of it as a challenge to your car and skills from here on. Most of the land is alongside NY 30 is now state land, except where it is posted otherwise.(Don't assume, check!)
Speculator Village is on scenic Lake Pleasant, surrounded by mountains, and is home to great ice fishing and snowmobiling on hundreds of miles of trails, as well as xc skiing and skating. But at 1800' above sea level, pack the winter gear and clothes, you're in the the cold belt now! Lake Pleasant is fed by the Center Branch of the Sacandaga River. The lake is three miles long and two miles wide at a level of 1724 feet above sea level. The state stocks fish in it each spring. Just west of Lake Pleasant and north of NY 8 West, is Sacandaga Lake, not to be confused with the Great Sacandaga Lake in Fulton County by Northville/Mayfield.(I guess lake and mountain names tend to be re-used a lot in the 'Daks). Following the Sacandaga River north-east of town, downhill towards Wells, is the village x-country ski trail running alongside a snowmobile trail. It can be accessed by the village arena parking lot, across from the town beach. See map! There is a small family owned ski area east of the village center at the junction of NY 8 West. In the village center, there is pretty good shopping for a mountain village. Watch for deer on winter nights, I've had to shoo them away so I could get out of my parking space, in the village center!
Speculator also has good cell phone coverage, all the way to Lake Pleasant Center. The next town with reasonable cell phone service north is Blue Mountain Lake.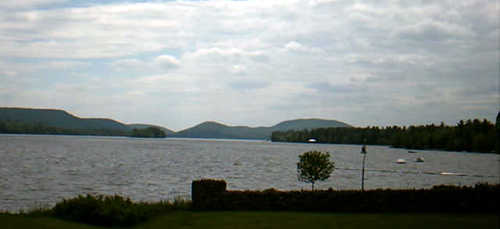 Speculator Town Beach on NY 30