NY 37 West to Westville, Fort Covington + Akwesasne Mohawk Reservation in Hogansburg
(From Malone to Saint Lawrence County Line)
Clock Tower, Fort Covington on NY 37
Basically, the Northern Plateau is fairly flat & featureless and alternates between newer short forest and farmland. It is mainly glacial moraine. But there is good fishing as you head north-west towards the Akwesasne Mohawk Reservation in Hogansburg on NY Route 37. Northbound NY 30 travelers should stay straight at the light at the junction of US 11 in Malone Village and not turn right to stay on NY 30. Southbound NY 30 travelers from Quebec, Canada should take the first right past the customs in Trout River. Follow this road, Franklin County Route 20, to its junction with NY 37 in Westville. You will now be on NY Route 37 heading west towards Massena via Hogansburg. Hogansburg is the town in northwestern Franklin County that is the St. Regis, Akwesasne Mohawk Reservation tribal land. Along the way towards Hogansburg you cross a bunch of rivers good for fishing like the St. Regis, Salmon, and the Raquette Rivers.
The first town out of Malone is Westville. It is mainly rolling farmland with the Salmon River running through it. Then as you head towards the border, you come into Fort Covington, where there is a border crossing about 1.5 miles north of NY 37. There is about a mile long 35 zone there. Fort Covington is a border town, and most of the border properties have been taken over by the Feds. IT is mainly rolling farm and second generation growth like most of the region.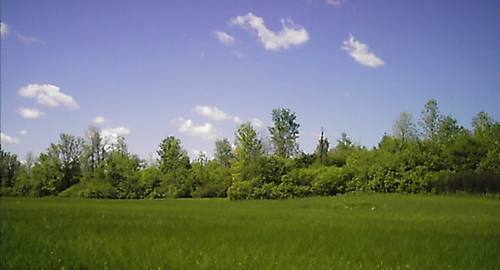 The reservation is half in Quebec, so it's international. But the interesting part is in the US in Hogansburg. For about 8 miles on NY 37 there is the strip where you can get cheap tobacco, gasoline, clothes and gifts on the reservation free of most taxes! It's a great place to shop and eat. The reservation offers a variety of shops and services for this part of the state and neighboring Canada. Should I dare mention this to gamblers, but there are two casinos on the reservation so you don't have to settle for bingo any longer. They also have stock car racing at Frogtown.
For the sports people, the Mohawk Reservation has fishing and waterfowl hunting permits good on tribal lands. You need a NYS small game hunting with federal duck stamp or a fishing license. Fishing is $3/3 days or $10/year. For waterfowl hunting, it's $7/3 days or $35/year. Fishing entitles you to fish anywhere on the reservation, or seton. Waterfowl hunters need to hire a reservation guide. All hunting is on the Canadian, or northern half of the Reservation, but you only need the tribal permit. Since so many rivers like the St. Regis and Raquette flow into the nearby St. Lawrence Seaway and it is flat and marshy, find a guide with a boat.
| Fort Cov. 12937 Zip, Hogansburg: 13655 Zip | 518 Area Code |
| --- | --- |